Home
> Muslaf Hajj Services
Muslaf Hajj Services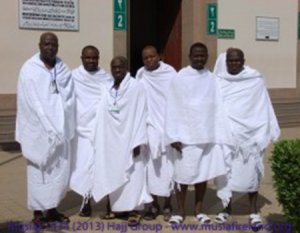 Introduction
MUSLAF is a registered charity organisation inIreland. The association was formed in 1999 by some emigrant African nationalities. MUSLAF has been operating as a registered charity association since 2001.
Among our services to the Muslim Ummah is to register Hujjaj and organise a quality pilgrimage to the holy land of MeccaandMedinaon an annual basis.
Allah in the glorious Quran through Prophet Ibrahim made a call to us (Muslims) to visit the holy land.
"They will come to thee on foot and (mounted) on every kind of camel, lean on account  of journeys through deep and distant mountain highways . . . (Quran 22:27)"
The Hajj journey is an annual pilgrimage toMecca,Saudi Arabia, and in all indications it happens to be the largest mass gathering in the world. That is a place where every Muslim (Male & Female) who can afford the cost and with capacity is required to perform Hajj at least once in lifetime. Hajj is performed on 8th through 12th of Dhu al-Hijja, the last month of Islamic year (Hijrah). The Islamic calendar is lunar; the timing of Hajj varies with respect to the Gregorian calendar.
Hajj Destinations
MUSLAF Hajj is affordable and has come with an unbeatable cost. It is a subsidised Holy journey fromIreland toMecca and Medina.
Below is the extract from the glorious Quran;
"Hajj thereto is a duty mankind owes to Allah, those who can afford the journey, but if any deny faith, Allah stands not in need of any of His creatures".  (Quran 3:97)
MUSAF Aims and Objectives
v  To help our Ummah to attend to the call of Prophet Ibrahim (ASW)
v  To ensure Hajj doctrine becomes accessible to all Muslims inIreland
v  Perform acceptable Hajj pilgrimage as ordained by Allah SWT
v  Allow Muslims to perform affordable Hajj without stress
v  Support MUSLAF members and non-members inIrelandandSaudi Arabia Services Rendered Before Hajj
v  Registration of Hujjaj
v  Advertise the journey to know what our Hujjaj are getting v  Support Hujjaj through the process of preparing for the journey
v  Obtain Visa for the Hujjaj v  Training provided on the pre-requisite of Hajj
v  Presentation at Halaqa to allow for Q&A
v  Facilitate Hujjaj immunization or vaccination against diseases Services Rendered During Hajj
v  Ensure Hujjaj transport is covered to and fromMedinaandMecca
v  Health Care of Hujjaj is paramount to us in the holy land
v  Hujjaj are transported to the right location at the right time
v  Food provision is made in all locations during the Hajj Process
v  The sleeping arrangement is made comfortable for our Hujjaj
v  Visitations are made to important places (Zeyarah) when necessary Services Rendered After Hajj
v  Support and talk given to individuals as necessary
v  Organise Halaqa to reaffirm our state of heart for Ibadah
v  Question and answer on Hajj and other religious matters are dealt-with in group and on individual basis MUSLAF Hajj Packages
3 Weeks Package
v  Registration form €100 (Part of hajj cost)
v  Pay €100 toward the cost of the Hajj at registration form (Admin cost and not refundable) v  Deposit of €1000 there-after
v  Balance of €3400 before the end of Ramadan
2 Weeks Packages
v  Registration form €100 (Part of hajj cost) v  Form submission (€100 toward the cost of your Hajj)  Admin cost and not refundable
v  Deposit of €1000 there-after
v  Balance of €2700 before the end of Ramadan
Terms & Conditions
Complete the Expression of Interest Form (No payment is required for submission)
Collect Registration Form with €100
Submit the form with €100 as part of your Hajj Cost
Pay your deposit of €1000 within a month of registration
Pay balance as soon as possible to facilitate Visa and other processes
Note: Due to volume of Hujjaj going with MUSLAF your Hajj journey might not be guaranteed if the terms and conditions above are not strictly adhered to.
Why must I travel to Hajj with MUSLAF?
Your Hajj Cost covers:
Travel Ticket to and fro
Accommodation inMedina
Accommodation inMecca
Accommodation in Minna
Feeding inMecca, Minna andMedina
Qubani in Minna
Zeyarah inMedinafor the two weeks packages and inMeccafor those spending 3 weeks
Testimonies
Muslaf Member
Alhamdulalahi the Hajj was well organised. MUSLAF was able to leave up to their usual standard before, during and after the Pilgrimage. (Hajjah Fodilat Ayinde)
Non-MUSLAF Members
 TBC MUSLAF Hajj Committee contacts:
Sis. Fatimo Ganiu (087770 9253)
Sis. Amdalat Buhari (087126 3559)
Bro. Tajudeen Bolaji (089953 0215)
Bro. Olalekan Saheed Akanmu (0871418831)
Prayer Timetable
13-Dec-2018
| | |
| --- | --- |
| Salah | Begins |
| Fajr | 6:33 |
| Shurooq | 8:28 |
| Zuhr | 12:20 |
| Asr | 1:52 |
| Magrib | 4:10 |
| Isha | 5:56 |
View Monthly Timetable
Donate